Reciprocity Wirral, a Merseyside-based pioneer in paint waste, have diverted over 680,000 litres of paint from being wasted and redistributed it into community organisations and families across the region and beyond.
By partnering with Veolia and Merseyside Recycling and Waste Authority, Recipro have collected hundreds of thousands of litres of householder's unwanted paint, which is then taken to their Wirral site and processed for reuse.
Some of the paint is checked and sold as 'rescued paint' for the local community at prices from as little as £1.20 a litre. They have hundreds of customers who have decorated their whole properties for just a few pounds!
The majority of the paint collected is remanufactured. This innovative process, developed with Dulux and New Life Paints takes unwanted paint, filters and treats it before it is repackaged. The end product is a recycled, great quality and affordable paint!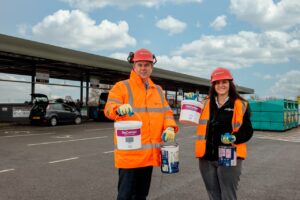 Available nationwide via delivery or through stockists, the paint has gone from strength to strength, with over 350,000 litres being sold since its launch in 2017.
ReColour is used by householders, charities, schools and community organisations, such as Aigburth Counselling and Psychotherapy, who used ReColour to refresh their centre:
"It's been an absolute pleasure dealing with Recipro. Everything from ordering to the delivery was done in such a helpful and friendly manner and to know that we are helping to reduce waste is fantastic!"
The paint is available in emulsion, masonry and chalky furniture paints, in a range of fashionable and traditional colours, with plans to expand the range to new products in 2023.
By recycling or reusing paint, not only is this huge amount of waste being kept from the waste stream, but also the energy and water used in the manufacture of new paint is being reduced.
Beckie Close, Director at Recipro, said: "When we launched Community RePaint Wirral in 2013, we had no idea it would grow to this scale! Our business is focussed on reducing waste, while benefiting our local, and wider community, and we couldn't do it without the support of Veolia and MRWA. We are so excited to see how we continue to grow, add new products and expand our team!"
Jeff Sears, Director at Veolia in Merseyside and Halton said: "We're delighted to be working with Recipro and very proud to divert paint for remanufacture and reuse. This is a great example of an innovative solution to help cut climate-changing carbon emissions.
"If you have leftover tins of paint taking up space in your shed or cupboard, bring them to one of our Recycling Centres with a drop off point so the paint can be given a new lease of life. "
Lesley Worswick, Chief Executive of Merseyside Recycling & Waste Authority, said: "It's great to see this scheme doing so well. Often what people think of as 'waste' is actually a resource which someone, somewhere will be able to use. This is a perfect example of reuse in action."
Residents can drop off their unwanted paint at the following locations:
Bidston Household Waste Recycling Centre, Wallasey Bridge Rd, CH41 1EB
Huyton Household Waste Recycling Centre, Wilson Rd, L36 6AD
Johnsons Lane Household Waste Recycling Centre, Widnes, Widnes WA8 0SJ
Old Swan Household Waste Recycling Centre, Cheadle Ave, L13 3AF
Ravenhead Household Waste Recycling Centre, WA9 5EA
Sefton Meadows Household Waste Recycling Centre, Sefton Ln, L31 8BT
ReciproCity Wirral is open to the public and organisations, Monday to Friday 8.30-5 and Saturdays 10-4.
-ENDS-
Photo: Jeff Sears (Veolia) and Beckie Close (Recipro) at Huyton Household Waste Recycling Centre.
ReciproCity Wirral are members of the national Community RePaint scheme, set up Dulux in 1993.
ReciproCity Wirral is a social enterprise that works with the construction and DIY sector to reduce waste through diversion of surplus materials from the waste stream. As well as paint they accept donations of surplus DIY and building materials from the trade and supply chain.
Press contact: Rebecca Close, Director
07894586550 | rebecca@recipro-uk.com