To mark #WorldSocialMediaDay (Friday 30 June), we are celebrating the zero heroes and green influencers who are using their social media platforms to help people adopt a zero waste lifestyle.
Whether you are looking for home cleaning hacks, tips on how to nurture plants and waste less food, or guidance on how to upcycle everyday items from clothes to furniture, we'll be covering just some of the amazing social media influencers who are making a positive difference through methods which save money whilst protecting the planet…
Gemma Longworth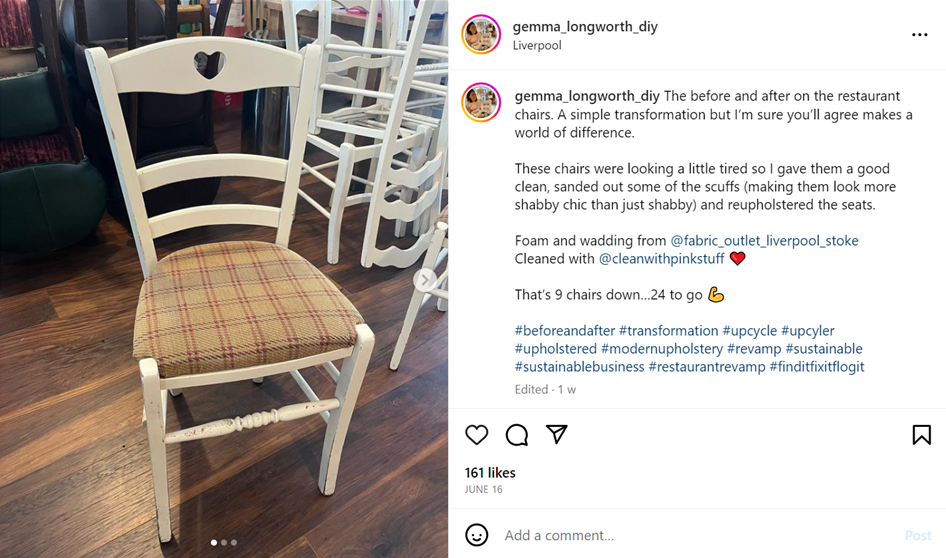 Kicking us off is Merseyside's own Gemma Longworth! Born in Liverpool, Gemma has made a name for herself as part of the presentation team on Channel 4 series Find It, Fix It, Flog It.
Co-presenting alongside fellow Scouser, Simon O'Brien, and Henry Cole, Gemma can be found helping various participants of the popular daytime show in their quest to fix and upcycle unique furniture items… All with the aim of turning over a nifty profit!
Away from her star turn on the TV screen, Gemma often shares upcycle projects on her Instagram page, featuring everything from furniture to home décor to clothing and even footwear!
To keep up to date with all of Gemma's latest projects, follow @gemma_longworth_diy on Instagram.
Nancy Birtwhistle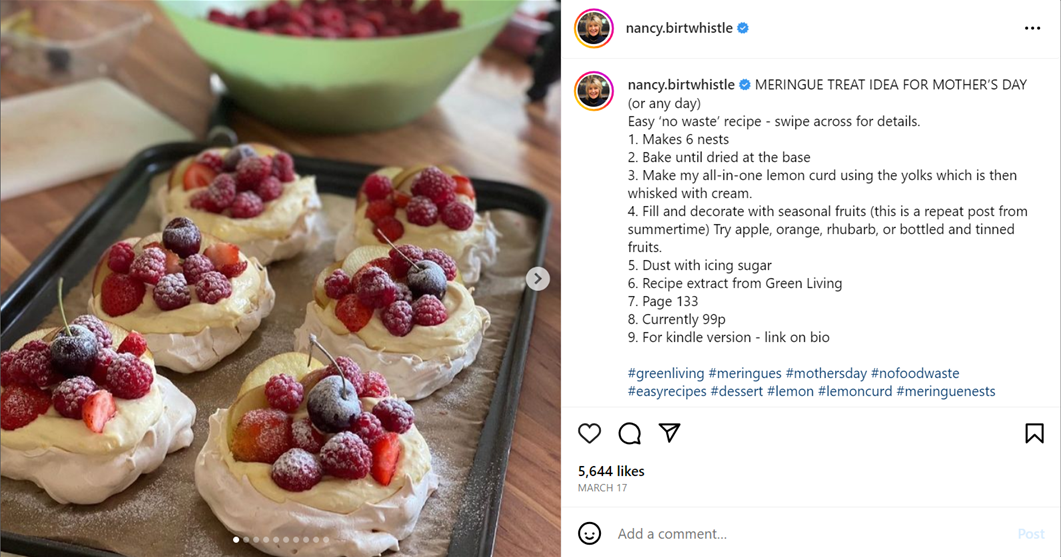 Up next is a lady perhaps most familiar to fans as a winner of the popular TV programme, The Great British Bake Off, having won Series 5 of the hit show…
Nancy Birtwhistle may have come to prominence as a creative master in the famous Bake Off tent, but she has since used her fame to spread her positive influence and become a bestselling author of books promoting green living.
Chances are, if you're not finding handy tips in her books on everything from homemade cleaning remedies to preventing food waste to saving energy whilst cooking, that you will be finding them via her Instagram page.
To keep up to date with all of Nancy's latest hacks, follow @nancy.birtwhistle on Instagram.
Anne-Marie Bonneau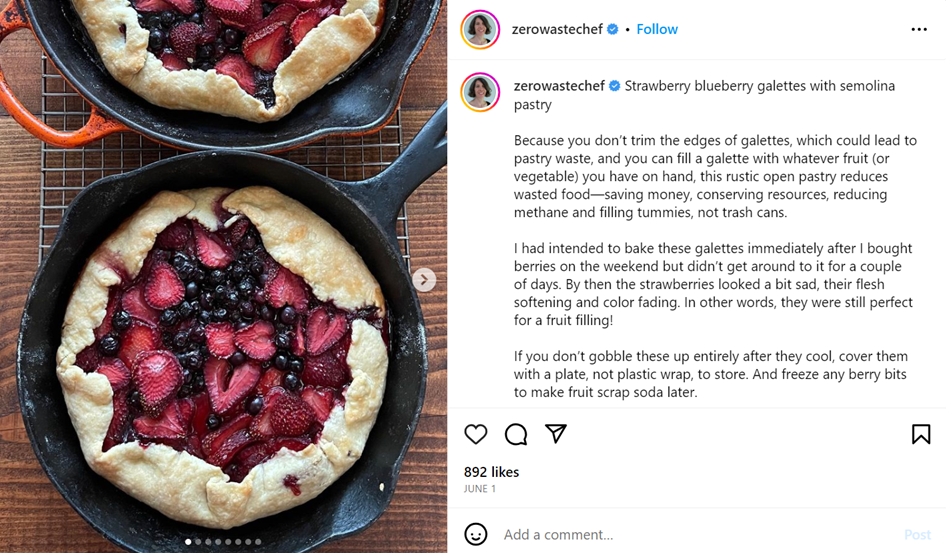 Next on our list is Anne Marie Bonneau, also known as the "Zero-Waste Chef"…
Having made the leap to go plastic-free back in 2011, Anne-Marie has continued to embrace an environmentally friendly ethos, forging a stellar reputation as an author and blogger in the years since.
The Canadian-born influencer has used her creativity to produce various zero-waste recipes, which have subsequently inspired hundreds of thousands of followers to hone their culinary skills, whilst making small steps to protect the planet.
To keep up to date with all of Anne-Marie's latest climate-saving tips and zero waste recipes, follow @zerowastechef on Instagram.
Armen Adamjan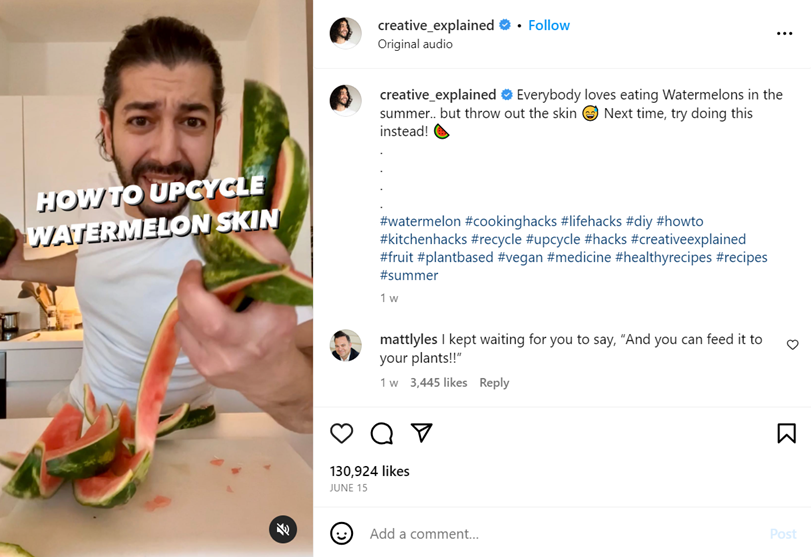 Last, but certainly not least, is a man who has exploded onto millions of people's social media feeds in recent years via a series of fast-paced, informative Instagram reels and TikTok videos.
Armen Adamjan – better known by his social media moniker, @creative_explained – is renowned for sharing plant hacks, which include a host of "grow your own" fruit and vegetables tips, as well as useful ways in which we can prevent other perishable food from going to waste.
Built on a reputation which has earned nicknames such as "Plant Jesus", "Plant Ninja" and "The Dave Grohl of plants", Armen also has a whole host of cleaning tips in his locker which not only make use of store cupboard ingredients, but also prevent the need to turn to shop-bought items, which often come in plastic packaging.
To keep up to date with all of Armen's famous plant hacks and zero waste tips, follow @creative_explained on Instagram.
---
The above are just a select few from a growing movement of zero waste influencers. There are plenty more out there who are doing their best to enrich lives with wholesome, fulfilling tips which are great for personal wellbeing and protecting the planet for present and future generations.
Do you have any zero waste tips of your own? If so, we'd love to hear from you with a view to sharing via our social media channels. Drop us a message or tag @zerowastelcr on Twitter and/or Instagram for your chance to be featured!
Head back to our home page to discover a range of ways that you can start your zero waste journey today!
Please note, all influencers referenced within this feature are not official partners or affiliates of Merseyside Recycling and Waste Authority, operating as Zero Waste LCR.